High Quality Screw Packing Machine for Efficient Packaging Solutions
High quality screw packing machine is suitable for single product packaging and 2-3 mixed product packaging, and it is easy to operate with the PLC control system. Strong sealing, smooth and elegant bag shape, high efficiency and durability are the preferred elements. It can provide automatic order placement, counting, packaging and printing. Equipped with exhaust, printer, labeller, conveyor belt and checkweigher makes it even better.
Model: FY-240A
Packing size: L20-180mm; W50-85mm
Power supply: AC220v/50hz/2KW
Packing speed: 10-70 bags/min
Packaging material: PP/PA/PE/CPP/PET
Counting capacity: 1-20 pieces/bag; 1-3 kinds/bag
Machine size: L1500mm, W1200mm, H1650mm
Details
High quality screw packing machine, achieving automation and accurate counting and packaging. Improve production efficiency and reduce labor costsDesigned to simplify the screw counting and packaging process, making it faster, more accurate and more efficient. It can accurately count screws and place them in specified packaging, reducing the risk of human error and increasing productivity. With its high-speed operation and user-friendly interface, the machine is the ideal solution for companies looking to automate the screw packaging process while improving product quality and consistency.
Discover the pinnacle of precision and efficiency with our high-quality screw packing machine. Designed to revolutionize your packaging process, this versatile machine excels in both single-product packaging and 2-3 mixed product packaging scenarios. With its user-friendly PLC control system, you can easily operate and manage the entire process.
Key Features:
Superior Sealing: Our screw packing machine ensures a robust sealing mechanism, resulting in perfectly sealed bags with an elegant and smooth shape. Say goodbye to concerns about leakage or damage during transportation.

Efficiency and Durability: Engineered for longevity and consistent performance, this machine guarantees high efficiency even under demanding production schedules. It's a reliable workhorse for your packaging needs.

Automated Functionality: Enjoy automatic order placement, precise counting, efficient packaging, and integrated printing capabilities. This machine streamlines your packaging process from start to finish.

Enhanced Accessories: Equipped with essential features including exhaust, printer, labeller, conveyor belt, and checkweigher, our machine takes your packaging capabilities to the next level.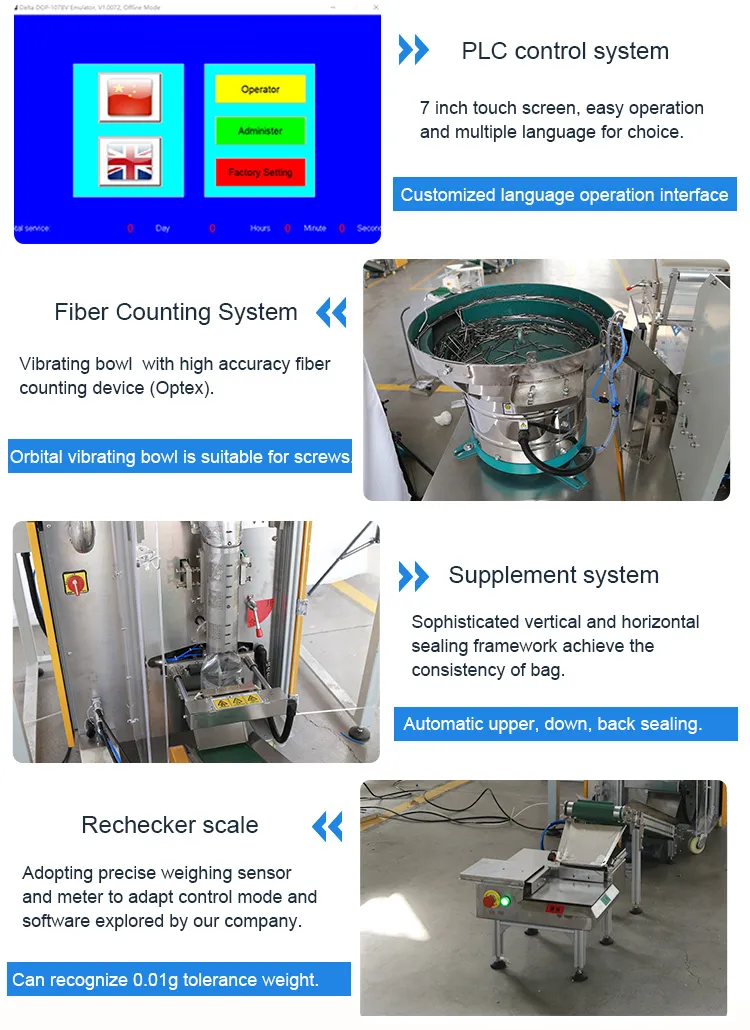 Packing type: Pillow bag, Bag with round hole, Bag with euro hole, Linking bag
The screw packaging machine can count or weigh various items such as screws, nuts, bolts, washers, furniture kits, hardware parts, fasteners, and small components, and then package them into bags or boxes according to your specific needs. This machine has high accuracy and fast running speed, effectively reducing labor costs for your enterprise.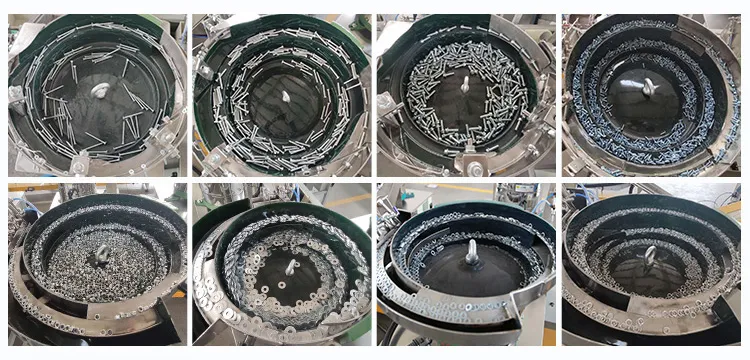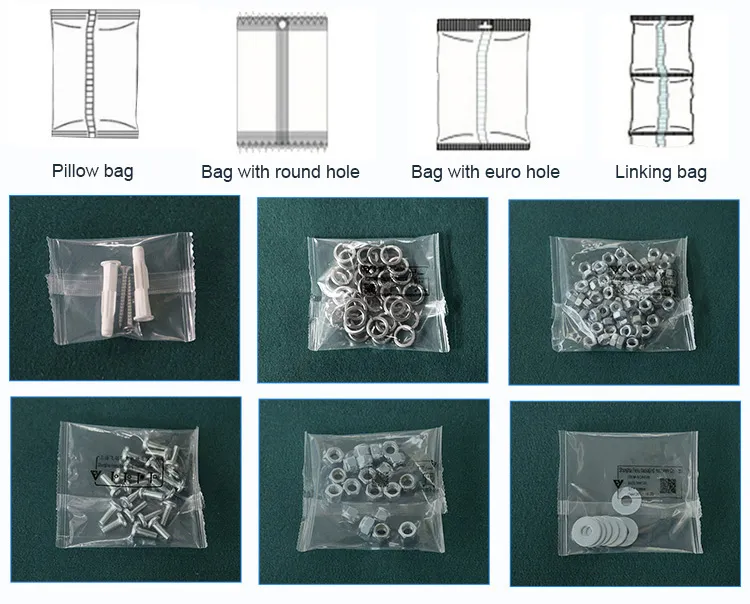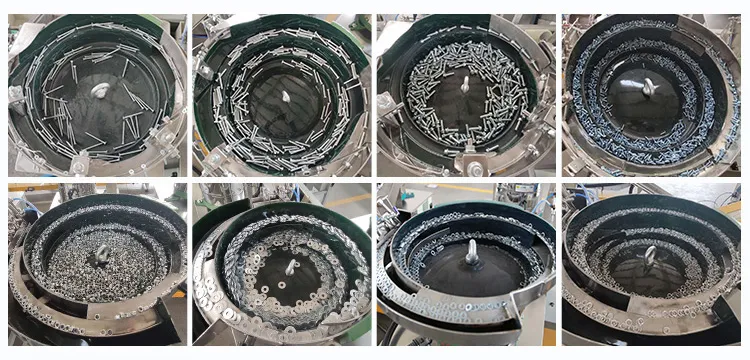 Parameters
| | |
| --- | --- |
| Model | FY-240A |
| Packing size | L: 30-180mm, W: 50-140mm |
| Max film width | 300mm |
| Packing material | PA/PE, PP/CPP, PET/PE |
| Counting capacity | 1-20 pcs/bag; 1-3 types/bag |
| Packing speed | 10-70 bag/min |
| Power | AC220V/50-60Hz/2kW |
| Machine size | 1500mm(L)* 1200mm(W)* 1650mm(H) |
structure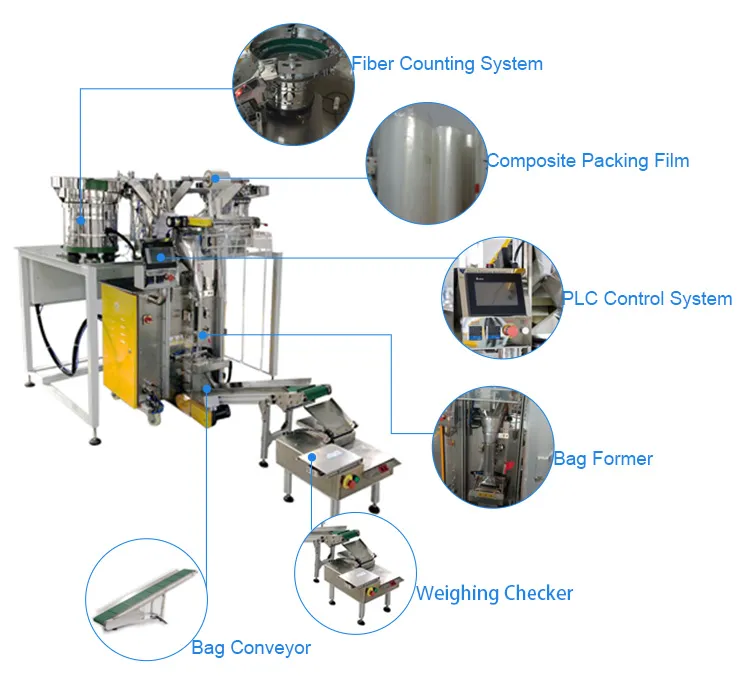 Operation Process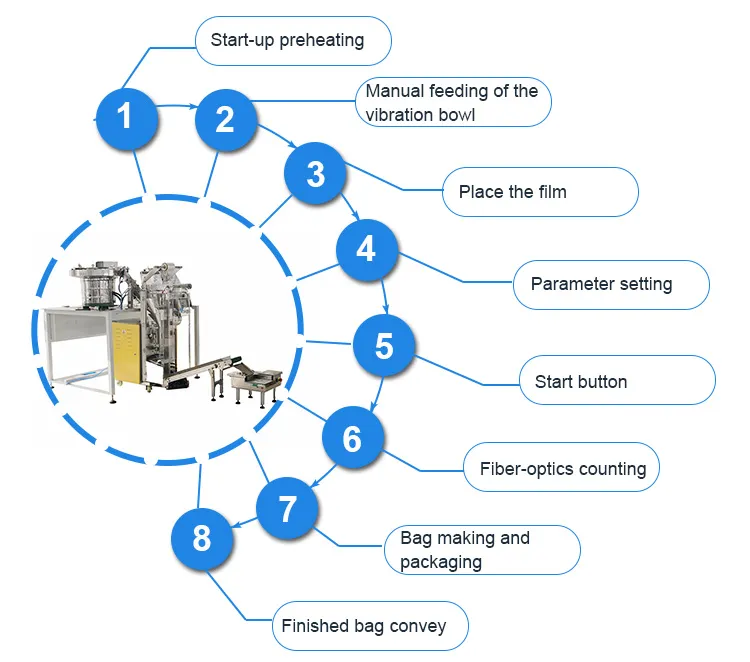 Welcome to explore our advanced screw packaging machine, which provides efficient automatic counting and packaging solutions for the hardware and fastener industry. Our screw packaging machines use advanced technology to accurately count and pack screws, nuts and other fastener products of various specifications at high speed. Whether it is small batch production or large-scale production, our equipment can ensure the accuracy and consistency of packaging, saving you labor costs and improving production efficiency. We are committed to bringing higher efficiency and competitiveness to your production line, please contact us for more details