High Quality Screw Packing Machine
High quality screw packing machine is suitable for single product packaging and 2-3 mixed product packaging, and it is easy to operate with the PLC control system. Strong sealing, smooth and elegant bag shape, high efficiency and durability are the preferred elements. It can provide automatic order placement, counting, packaging and printing. Equipped with exhaust, printer, labeller, conveyor belt and checkweigher makes it even better.
Model: FY-240A
Packing size: L20-180mm; W50-85mm
Power supply: AC220v/50hz/2KW
Packing speed: 10-70 bags/min
Packaging material: PP/PA/PE/CPP/PET
Counting capacity: 1-20 pieces/bag; 1-3 kinds/bag
Machine size: L1500mm, W1200mm, H1650mm
Details
High quality screw packaging machine, achieving automation and accurate counting and packaging. Improve production efficiency and reduce labor costsDesigned to simplify the screw counting and packaging process, making it faster, more accurate and more efficient. It can accurately count screws and place them in specified packaging, reducing the risk of human error and increasing productivity. With its high-speed operation and user-friendly interface, the machine is the ideal solution for companies looking to automate the screw packaging process while improving product quality and consistency.
Details Description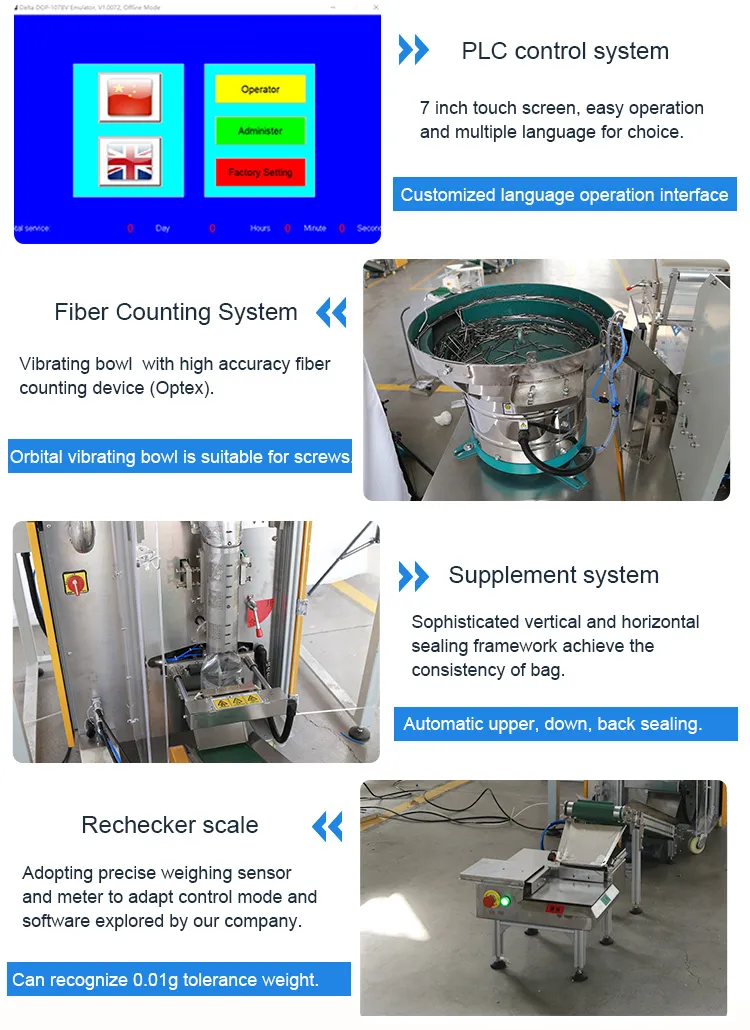 Features:
PLC control system, optical fiber counting system, re-inspection scale, replenishment system
Samples
Packing type: Pillow bag, Bag with round hole, Bag with euro hole, Linking bag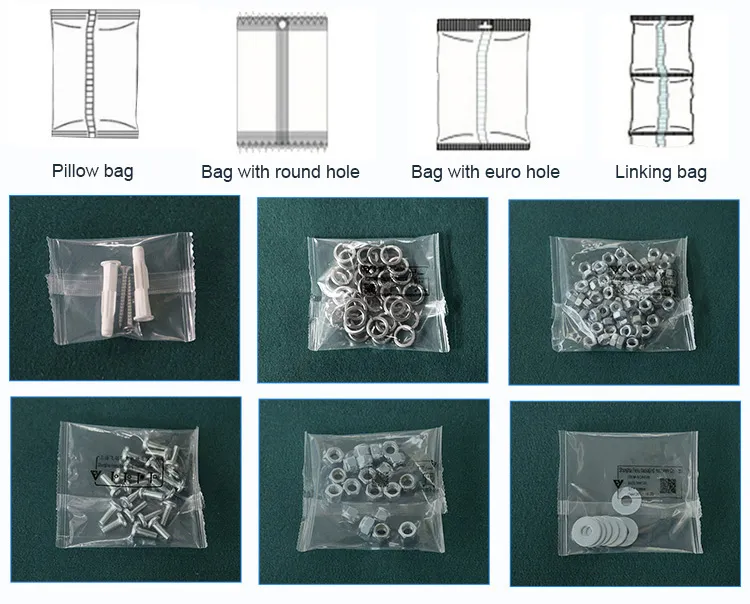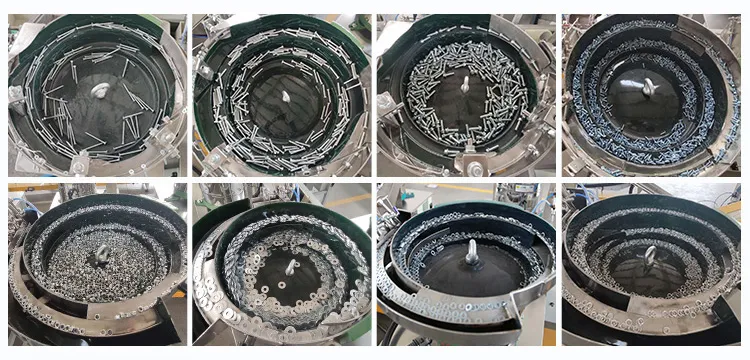 Parameters
Model
FY-240A
FY-420A
Packing size
L: 30-180mm, W: 50-140mm
L: 50-300mm, W: 50-200mm
Max film width
300mm
420mm
Packing material
PA/PE, PP/CPP, PET/PE
Counting capacity
1-20 pcs/bag; 1-3 types/bag
Packing speed
10-70 bag/min
Power
AC220V/50-60Hz/2kW
Machine size
1500mm(L)* 1200mm(W)* 1650mm(H)
structure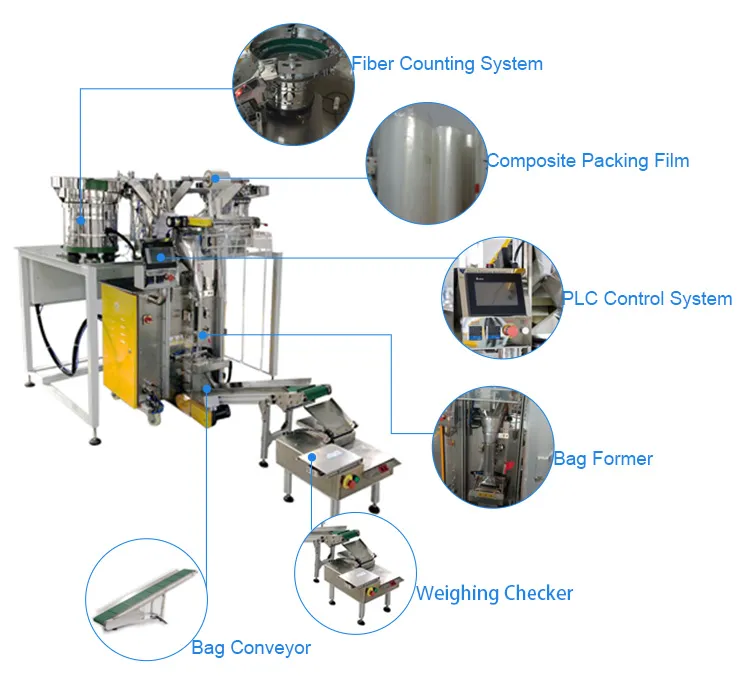 Operation Process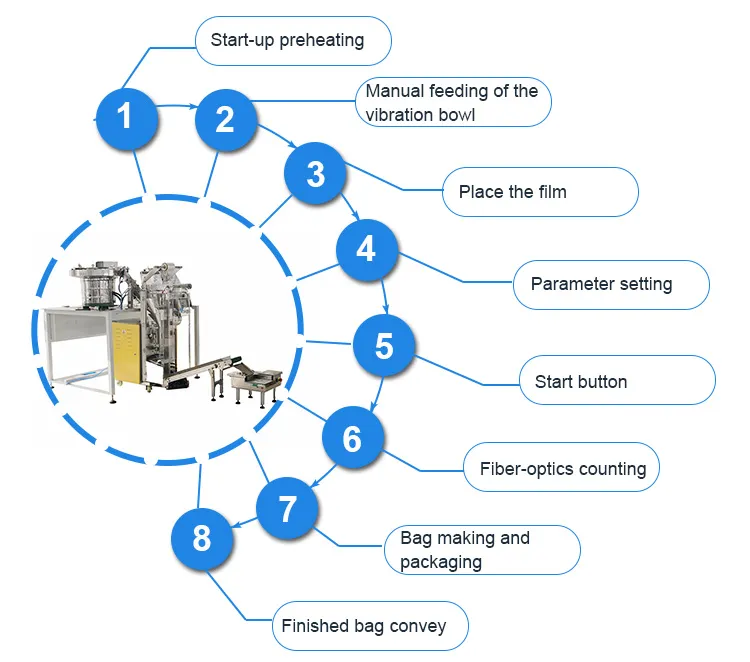 Welcome to explore our advanced screw packaging machine, which provides efficient automatic counting and packaging solutions for the hardware and fastener industry. Our screw packaging machines use advanced technology to accurately count and pack screws, nuts and other fastener products of various specifications at high speed. Whether it is small batch production or large-scale production, our equipment can ensure the accuracy and consistency of packaging, saving you labor costs and improving production efficiency. We are committed to bringing higher efficiency and competitiveness to your production line, please contact us for more details