Say Goodbye to Manual Packaging with Our Small Bag Screw Packaging Machine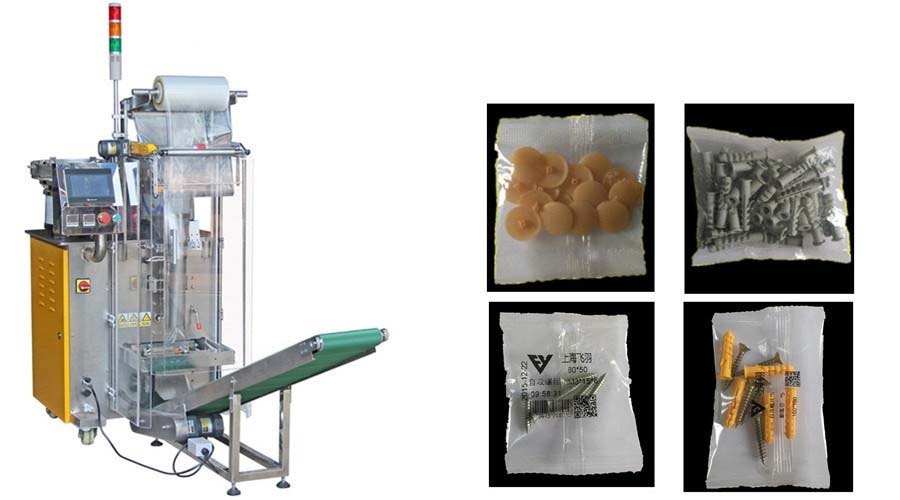 Today, with the development of industrial automation and informatization, the hardware industry is developing more and more rapidly. More and more manufacturers are starting to use automated packaging machines to improve efficiency and quality. As a professional manufacturer, we have provided customers with a wide range of hardware packaging machines, including small bag screw packing machine.
Our small bag screw packing machine is an efficient and precise automatic packing machine. It can be freely adjusted according to the needs of customers to accommodate screws of different specifications and quantities. The small bag screw packaging machine can not only automatically weigh and pack screws, but also complete counting and classification, as well as print information on the bag. It is also equipped with automatic correction and automatic alarm functions, which can effectively reduce errors and failures in the packaging process.
Manufactured with advanced technology and high-quality materials, our pouch screw packing machine has the following advantages:
Stable and reliable: high-quality sensors and control systems are used to ensure the stability and accuracy of packaging;
High efficiency and energy saving: adopt intelligent control system and advanced energy-saving technology to save energy and reduce costs;
Easy maintenance: detachable structure, easy to clean and maintain;
Safety guarantee: Equipped with multiple protection measures to ensure safe operation;
Very practical: can be customized according to different needs.
Our small bag screw packaging machine is widely used in hardware, electronics, machinery and other industries, providing customers with stable, efficient and reliable packaging solutions. Our products have been strictly tested and inspected, and comply with international standards and regulations, providing customers with the best experience and guarantee. If you are interested in our products, please feel free to contact us.